Best Sony TV XD93 in the line was introduced in early 2016 - a TV Sony KD-55XD9305, entering the segment of low-budget models. Before us is a stunning 55-inch 4K TV from Sony XD93 lineup released a new 2016. It set us known processor X1, providing excellent speed processing Ultra HD images included in the specification of the function of High Dynamic Range (HDR). It should be noted at once that line of TVs Sony XD93 is so far only two models KD-55XD9305 and KD-65XD9305.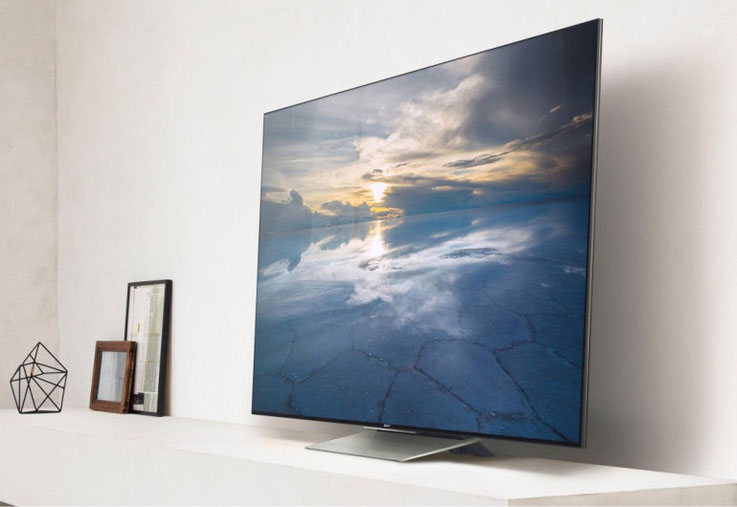 Support for High Dynamic Range from the beginning of 2016 is considered to be a kind of standard for all TV 4K resolution. It provides unmatched detailing colors, especially dark colors and the brightest parts of the screen. Areas that before the application of HDR remained blurred, now completely absent.
TV Sony KD-55XD9305C uses 4K X-Reality Pro technology for image scaling function of any resolution of the original video signal to Ultra HD value. New innovative processing algorithm is independent of the signal source, whether it is terrestrial TV or a third-party source of 4K video - quality assured.
TV Sony KD-55XD9305 uses familiar to us the Android operating system, which is designed for easy streaming of 4K content, self-TV reception, a chance to play, to install additional programs and other "goodies" of the operating system. Anyone who previously used a smartphone on Android, confirms the ease of use.
This model of TV Sony KD-55XD9305 is one of the finest models of Sony Bravia. Designers have tried to fame, all external communications are done with the least visible effect of "extra" wires.
In fact, this model is the third generation of 4K UHD TVs Sony, different high image quality and excellent sound. This development of C-series Smart all the power of the platform used.

The sound system is no longer used speakers Magnetic Fluid Speakers, a manufacturer simply thrown out. When you first look at the TV 55XD9305 the impression that the speakers are completely absent. Panel thickness reduced to the minimum possible size.
However, the audio system is at the height of the sound quality and provides high-quality "fill" the space of your home music content. The TV uses a new system 55XD9305 Sony audio with extended range HiRes Audio.

HiRes Audio System provides better sound quality than at the time was in CD-player. For all that speaker is located in the same block with a TV. Note that Sony XD93 has a 5-year warranty.
What was lacking in previous models of TVs - a powerful processor X1, providing good performance in image processing. 4K processor X1 in new models of video analyzes and make good decisions, how to be treated image. Now and RAW format 4K Ultra HD signal, for example, from Netflix 4K or Sky HD through the USB-drive is handled excellently.
Quantum Dot technology screen dimming - buzzword for new televisions. The Sony XD93 TV screen in the manufacture of matrix applied TRILUMINOS technology is the third generation of this function is to be applied from the beginning of this year. TRILUMINOS technology provides the best possible color and full color spectrum in 4K Ultra HD resolution.

Additionally applied image processing Precision Colour Mapping, which enhances the color hues, provides a full range of colors. In addition, the specification included technology Xtended Dynamic Range, which provides deep blacks.
Available colors
Black and Silver Steel
Screen size
 55 "inches
Main Features
Resolution 3840 x 2160 pixels 60p, lights Slim Blacklight, technology XR1000Hz, 4K with support for HDR, type Ultra HD, the audio system Hi-Res, active 3D, the quantization matrix of pixels of the screen, 4K processor X1, HDMI 2.0a interface with HDCP 2.2

Smart TV platform
System Android TV «Marshmallow», service YouView, Amazon Prime Resources, Netflix, support Playstation Now, GoogleCast service, manage the voice commands, remote RMF-TX200E Wi-Fi & Bluetooth
Interfaces
four the HDMI, one component, one the Scart, three USB, one Ethanet RJ-45, one optical audio, headphone output
Dimensions
(WxHxD)
145,8 x 83,9 x 3,6 cm (the size of the stand)
Weight and more
32.1 kg (with stand), the control panel Voice Remote RMF-TX200E
Warranty
5 years
In conclusion, the TV review Sony KD-55XD9305 want to note that the manufacturer tried to include all the innovations in one model. Superb picture quality available with the HDR specification in UHD content, will not leave the end user disappointed.

Given that this model - from TV line Sony XD93, adding that all Sony TVs meet modern requirements 4K TV. Considering that Sony XD93 is a series of low-end TVs that combine excellent specification of the modern processing solutions 4K content, we can safely recommend this model to the buyer.