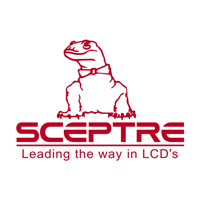 Let's try to make an overview of the TV Sceptre U500CV, that's so outstanding? The standard resolution of 4K (3840 × 2160 pixels, more than 8 million pixels on the screen - it has long been known to us), excellent color and realistic images on the 49 "screen. In the TV Sceptre U500CV available three HDMI ports, providing external connection video sources.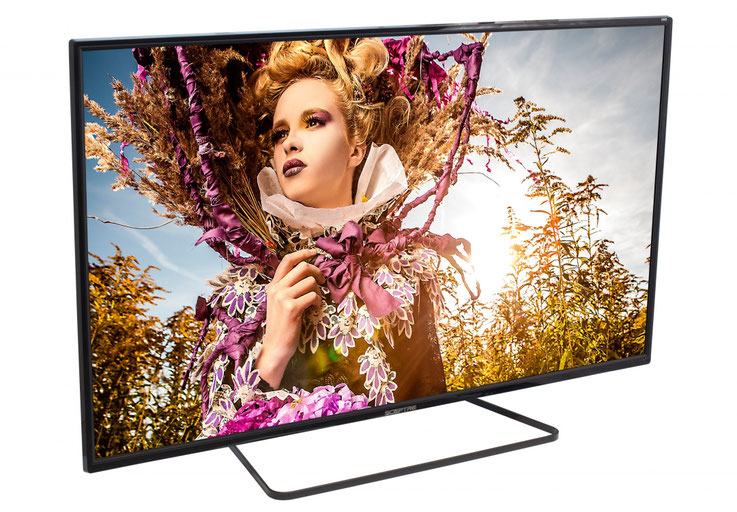 One port HDMI supports standard HDMI 2.0 We do, through which the streaming (when connected to an external source, naturally) 4K video. Available to control the TV Sceptre U500CV using mobile devices, for example via a smartphone. This provides a built-in technology MHL (Mobile High-Definition Link) via a pair of HDMI ports.
USB ports expand functionality and allow users to listen to music and view digital pictures quickly and conveniently - it sounds pessimistic standard. We now turn to a brief innovations that we have long been studied in other models 4K TVs.
Enter the world of unmatched colors, impressive contrast and image detail with 4K resolution (screen resolution of 3840 x 2160 pixels). The TV Sceptre 4K screen provides an output up to 8 million pixels, four times the resolution of 1080P Full HDTV. It sounds trite and familiar - it is not surprising.
All video content is not supplied to the 4K format it will be scaled to the UHD. Scaling hardware provided with a special chipset. Previous video standards Standard Definition (SD), High Definition (HD) and Full High Definition (FHD) will be automatically converted to 4K image. It really breathes new life into your old movies.
When using the tool 120 MEMC (Motion Estimation and Motion Compensation) all high-motion scenes on the TV screen Sceptre U500CV reproduced with excellent quality. Enjoy every moment of the image - all the sports programs are perfect for perception.
Play video in High-Definition. The port HDMI 2.0 can play video at 4K refresh rate of 60 Hz. Really 4K resolution issued at 60 fps, providing excellent image quality. Supports audio through HDMI 2.0 provides up to 32 audio "virtual" channels.
HDCP 2.2 support enables playback of 4K content from different sources, such as, Blu-Ray player, DVD player and others. This technology is supported by all modern 4K TVs, Sceptre with HDCP 2.2 is no exception.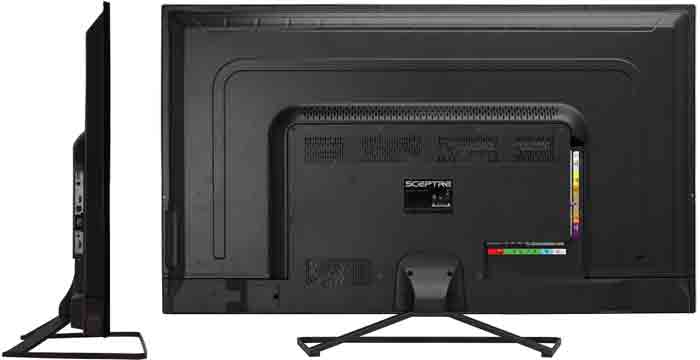 MHL technology allows you to operate your TV, play content from mobile devices. Even it is possible to charge your mobile devices, the MHL function, if present in the TV specifications. MHL technology is available on HDMI 2.0 ports.
Technology of Audio Return Channel provides the best audio playback TV system. Using an HDMI cable, ARC system can communicate bilaterally audio signal.
Consumer Electronics Control feature allows you to control devices via the HDMI interface. Using ARC and CEC, an entertainment system is much simpler in terms of management.
Part of the sound DTS SRS TruSurround HD system provides the best value for treble and bass when playing audio signal. In principle, there is a settings menu - each user can install the best, in his opinion, the parameters.
Stylish and slim Sceptre TV chassis was developed in the standard «Halo Stand Design». Distinctive features of visual lightness and stylish metal casing of the screen.