Polaroid - a name that we know from cameras. Remember those wonderful moments when you were able to receive instant color photographs ... Now, on the wave of 4K TVs Polaroid tries to win back positions. Agree, you have already forgotten about such a manufacturer. Polaroid TVs appeared on the market with 55 diagonals and 65 diagonals, models became exclusive for Asda (a supermarket chain in the UK).
Nevertheless, we decided to give an overview of the Polaroid 4K Smart TV. What is remarkable about Polaroid 4K Smart TV 55 "and 65" TVs is the price. We'll look at the Polaroid 65-inch Ultra HD Smart TV LED TV as an example.
Compatible with the characteristics and reviews of the TV Polaroid 65 "Ultra HD Smart LED TV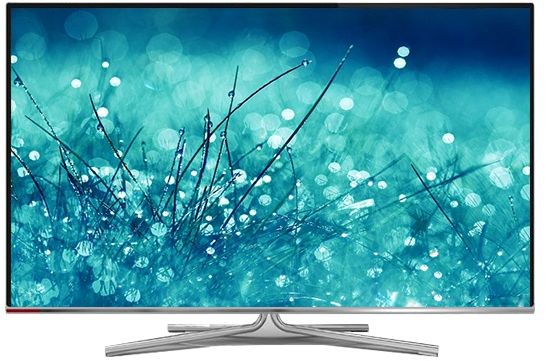 When it comes to the price of a TV with a 65-inch 4K screen, this immediately results in a blow to your pocket. But with this TV Polaroid 65 "4K UHD this option will not work. The starting price for it is only £ 1,099, you see, this is really a low price for this screen diagonal size in the 4K TV segment. We add that the specification of the TV does not look scant. Of course, there are some minor flaws, but they can be found in any 4K TV.
The quality of the image on the huge 65-inch screen of the Polaroid TV is excellent, good levels of dark colors, clear and natural colors - you just have to admire the 4K content. Tints of tones deserve a little tweaking through the menu of the TV, it's worth mentioning.
Separate settings are subject to various parameters, for example, image contrast, brightness, clarity and chroma. Preset images by ready-made schemes are available: Natural image, Cinema, Games, Sports programs and Dynamic adjustment. Automatic adjustment of levels of black and dynamic contrast is provided by the specification.
Such individual settings are pluses and a pleasant bonus in low-budget 4K TV models. Do not be upset by rereading the review. Even TV "out of the box" is able to surprise with the quality of the image, only after a while you will want to change them yourself - do not be persistent, because you can achieve a negative result. But you can always return everything to the factory settings.
The Polaroid 65 "Ultra HD Smart LED TV has a built-in wireless Wi-Fi adapter, it provides the Smart TV platform with a connection" to the outside world ". Excellent work streaming and Web browser. Applications installed from the factory allow you to use Twitter and Facebook, although we are not sure that it is convenient to use on the TV.
Online services are available Netflix, iPlayer and YouTube. These possibilities are not limited - you can always supplement your programs with various programs. Full support for the TV service DLNA, the ability to play content through a USB external device.
It can not be said that the operating system on the Polaroid 65 "Ultra HD Smart TV TV is advanced. Most likely, this is not an OS, and individual UI applications are just for this TV. Sporadically can irritate the user with a delay. It is not clear, could it not be possible to "tie" Tizen or WebOS as it does Samsung or LG?
The built-in Netflix application does not have the ability to play 4K content - only Full HD and lower. How it was possible to develop - it's not clear. Thus, at the moment, you can only rely on 4K content through the Amazon Fire TV or Blu-ray player.
In conclusion of the review of the TV Polaroid 65 "Ultra HD Smart LED TV I want to note that there are positive sides. This is the price of the TV and the image quality with some features that claim to be Smart TV. The build quality of the TV leaves much to be desired, to be honest.
The functioning of Smart TV is difficult, it is even doubtful to name the similarity of the operating system, working through the UI smart system. The control panel is very simple, as on conventional TVs, there is no hint of usability. But for such a price this is normal.
If you do not intend to use a 4K TV for entertainment, but only for its direct purpose, then this is a good option. Agree that the coolest 4K TV you will use after a while only for watching TV programs and 4K content, most newfangled features and will remain simply in the specification of the TV. On this minor note, we, perhaps, will finish the review of such a rare TV Polaroid 65 "Ultra HD Smart LED TV.