The development of television technology has led to the emergence of various types of display in the receiver box. So, we have gone CRT screens in 2014, ceased production of plasma panels. In 2015, the buyer offers phones with screens on the LCD matrix and based on OLED technology.
OLED television screen was used to construct OLEDs. That's the name of the diodes and formed the basis for the name of the device. In English OLEDs known as organic light-emitting diode (OLED).
Modern LCD  displays use LEDs for illumination, and such lights called LED. Therefore TVs are called LED, and it represents just the sort of illumination, and matrix liquid crystal remains. But OLED TVs use new technology to build the screen.
OLED TVs can provide better quality images than LED. They have the best:
contrast;
black level;
brightness;
color rendition.
Additionally it can be said that the viewing angle have almost 180 degrees, the refresh rate is much smaller than the LCD.
The first production model of OLED TV sets appeared in 2013.
Samsung released its OLED TV with a curved screen 55S9C. He had a Smart TV and 3D functions, the resolution Full HD. It cost about $ 9000.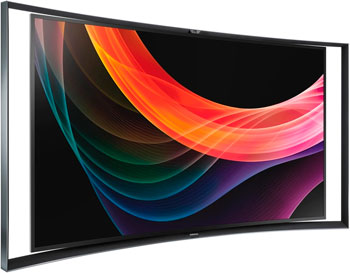 A LG announced its first commercial OLED TV in 2011, and in a series he went in 2013. It was called 55EM9700, the price was about $ 10,000.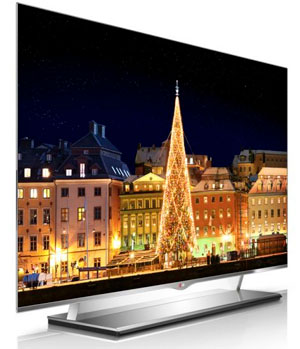 These two companies used two different production technologies OLED panels.
Samsung uses three different subpixels (RGB: red, green, blue) to their screens to create each pixel.
That is, the LEDs used three different colors. In the production of such displays it turned out, it turns out a large percentage of marriage, it is hard to pick uniformly glowing band of LEDs.
LG has gone the other way. They are just using white LEDs for sub-pixels with color filters, this technology is called WRGB or WOLED.
Using only white LEDs are much reduced the marriage in the production of panels, and it was easier to ensure the uniformity of screen glow.

In 2015 Samsung abandoned the production of OLED TVs because of problems with profitability. But LG continues to produce displays and glaciation to their TV sets to other manufacturers.
In 2013, Sony and Panasonic companies announced their collaboration in the development of OLED TV sets. Then Sony introduced its prototype 56 "4K2K. Both companies are planning to create their own models glaciation vehicles in 2014. In 2015, Sony has stopped production of its displays, organic light emitting diode, and Panasonic plans to sell one model that was still represented in 2014. Panasonic uses in their TVs OLED LG panel production. today, Sony and Panasonic company announced the termination of the joint work on glaciation displays, citing the fact that in the next two years, this technology will be dominant in the television market.
In the same 2013 Samsung launches another model of television set on the organic light emitting diode called the 55F9500. But mass production went only model 55S9C.
Mass production of OLED screens in 2015 deals only with company LG. This TV sets with screens glaciation of this company at the exhibition CES-2015 was more than the other.
At the exhibition CES-2015 Panasonic showed its OLED TV panel made by LG Display. This model has a diagonal of 65 inches, the screen resolution of 4K.
At CES-2015 exhibition were also presented OLED TVs Chinese companies Haier, Changhong and Konka. TV sets are built on 4K displays LG Display production. Another Chinese company Skyworth plans in 2015 to release four models of TV sets glaciation. The firm also uses displays from LG.