Its LCD TV Samsung UE22H5610 internationally renowned group has expanded its line of budget TV, designed for consumers who do not use certain functions and are not willing to pay more for them.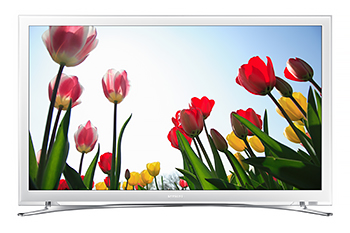 This TV will fit perfectly in a small room, it is often installed in the bedroom, kitchen or office. Thanks to the elegant white body design of the original model will be notable element in any design. Technical characteristics of the device will suit everyone draws versatility and advanced technology:
LED-backlight;

Supports 1080p Full HD;
1920x1080 screen;
Diagonal of 22 inches (56 cm);
Smart TV (Internet access);
Reception and demonstration of digital television;
Ability to connect USB-drives.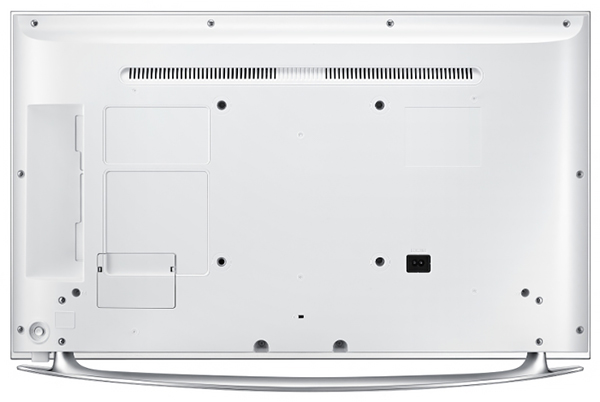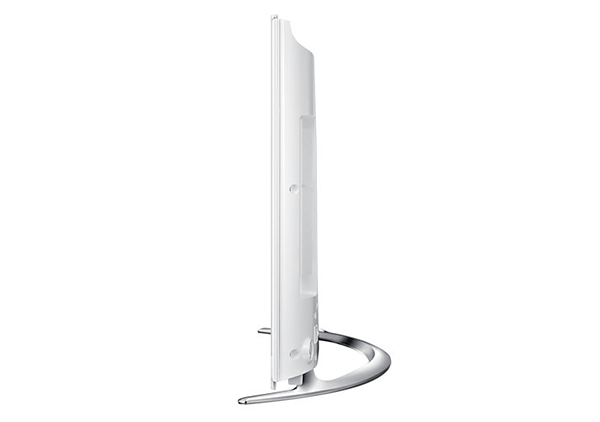 New television device provides the user with maximum comfort and convenience. It allows applications to use the huge library, watch TV, videos, availability of the service Smart Hub provides access to social networks. Samsung UE22H5610 have greatly improved control technology, allowing to perform channel switching and volume control using the remote control, or gestures.
In this TV is not the thinnest body, but looks are not weighted and quite elegant. Special stylishness attached curved legs and thin bezel framing the screen. If necessary, the TV can be easily attached to the wall, which at the rear has a special attachment. All body parts are connected into a single monolith, on the case can not be seen any cracks or gaps.
This TV unit perfectly combines the image quality and functionality:
Powerful quad-core processor significantly improves the performance of Samsung UE22H5610. Thanks to the processor device works fast multitasking, channel switching is performed in the fast mode, accelerating surfing the Internet.

Smart View system greatly simplifies the loading of the video. A wireless home network users can watch TV on your smartphone or tablet, and to control the TV will be able to use your smartphone. In addition, the TV, you can view content from your smartphone. All that is required - to TV and mobile device supports the same network.
Full HD format produces images of the highest level of realism.
Available USB and HDMI connector allows you to view movies directly from the media.
Special Motion Control feature has been enhanced for the range of devices. To device supports this feature, you need to buy only a webcam. Then the user can control the Samsung UE22H5610 not only with gestures, but also in using finger movements. On the quality of gesture control affects the level of lighting in the room.
Technology Samsung Wide Color Enhancer Plus, used for the transmission of color shades in this TV so that the TV is capable of transmitting the most realistic colors.
TV Samsung UE22H5610 able to satisfy the most demanding users, each family member will be able to choose the most interesting application of a huge library. The cost of this model is quite acceptable, but the quality and functionality correspond to the characteristics of modern Smart TV.
Stereo: yes
Type: LCD TV
Resolution: 1920 × 1080 pixels
LED (LED) lights: yes
Diagonal: 22 "inches
Screen Aspect Ratio: 16: 9
Frequency: 100 Hz
Internet access (Smart TV): there
Support HD: 1080p Full HD
Year Model: 2014
Support stereo sound NICAM: there
Support TV standards: PAL, SECAM, NTSC
Supported input formats: 480i, 480p, 576i, 576p, 720p, 1080i, 1080p
Support DVB-C: DVB-C MPEG4
Support for DVB-T2: there
Teletext: yes
Headphone jack: yes
Outputs: Optical
Slot for CI: there is support CI +
Version of the HDMI interface: HDMI 1.4a
Child Protection: yes
Support 24p True Cinema: there
Support DLNA: there
Video recording: on the USB-drive
TimeShift Function: yes
Support for Skype: there
Sleep Timer: yes
Number of independent TV-tuners: 1
Picture in Picture: yes
White color
Weight without stand: 3.4 kg
Weight with stand: 3.6 kg
Can be mounted on the wall: there
Dimensions without Stand (WxHxD): 520x324x52 mm
Dimensions with Stand (WxHxD): 520x341x155 mm
Kensington Lock: Yes
Supported formats: MP3, WMA, MPEG4, DivX, MKV, JPEG
Decoder Dolby Digital: there
Sound power: 2 W (2 × 10 W)
Number of built-in speakers 20 speakers
Surround sound: yes
Automatic volume leveling (AVL): there