New Panasonic EZ1002 with markings will be available in the UK to other markets available for the model Panasonic EZ1000, which is positioned as the flagship UHD 4K OLED TV. In fact, Panasonic EZR1000 is the reincarnation of Panasonic CZR950. New TV comes with a flat OLED panel, the increased value of the peak brightness and wide color gamut.
TX-65EZR1000 equipped with 65-inch screen with excellent black filter to reduce the effects of scattered light and reflected glare. Panasonic has applied this model Studio Colour HCX2 processor with image processing on a professional level. In addition, EZR1000 line in the HDR specification includes support for HDR and 10 HLG. Panasonic EZ1000 (EZ1002) comes bundled with the soundbar by Technics and has the latest version of My Home Screen 2.0 as a Smart TV platform.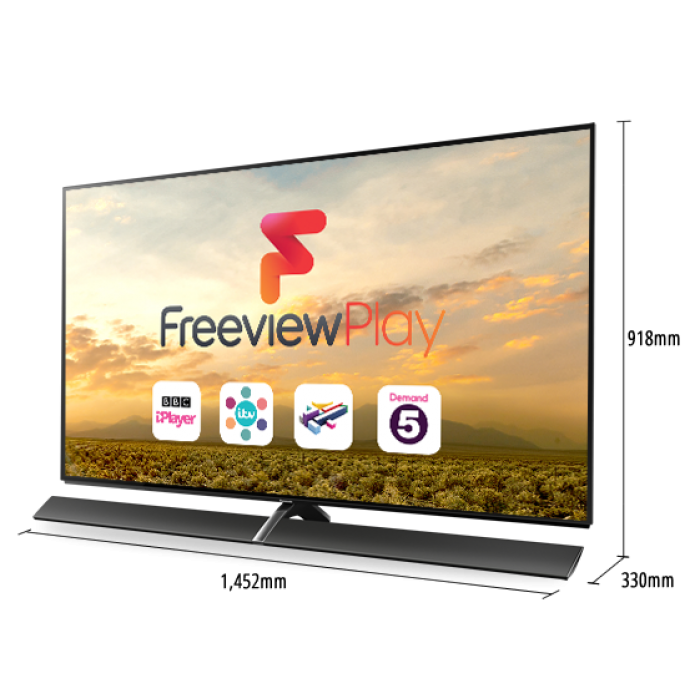 As we said above, EZR1000 model is equipped with a flat-screen OLED 65 inch. The total design concept from Panasonic fits to the class of «Art & Interior». A key feature of this approach is the emphasis on the "flat screen" that creates the appearance of floating above the plane of the TV. In general, the model is made in a dark metallic tones without any foreign body in the joints. This gives an elegant appearance and attracts the attention of a potential buyer for its design.
Another important feature of the design is applied speaker TV speaker system. Set «Dynamic Blade Speaker» was redesigned by Technics. As a result of the modernization of the TV it has received a total of 14 high-end speakers, eight subwoofers, four mid-range speaker and a pair of tweeters. The speaker system is equipped with four radiators. This is stated by the manufacturer as a 80-watt amplifier system output.
Speaker system «Dynamic Blade Speaker» is part EZR1000 TV. The total speaker output power - 80 watts. All wire connections conveniently packaged and do not strain the user's eye. In EZR1000 it is possible to install the panel through the VESA mount on the wall, which is important for the consumer. If you do not like the system Dynamic Blade Speaker, it can easily be replaced by any other home theater AV receiver with appropriate acoustics.

This equipment manufacturer Panasonic stated that the model can deliver a peak brightness at 800 nits, and almost 100% coverage of the color gamut DCI-P3. Due to the filter «Absolute Black Filter» appeared perfectly ability to absorb excess ambient light and glare on the OLED TV. EZR1000 model supports HDR and 10 standard HDR HLG, but does not support Dolby Vision standard.
TX EZR1000 TV from Panasonic is equipped with a processor Studio Colour HCX2, which, together with the accuracy of the tables «Delta Zero» and «3D Look-Up» (LUT) allows playback of images on the screen with professional accuracy. As Panasonic says in EZR1000 an opportunity to "deliver" the user the most accurate colors in contrast to the previous models of domestic level. HCX2 processor when processing great analyzes and displays excellent black levels and detail images in general.
Panasonic EZR1000 includes a number of semi-professional technology provides excellent image on the screen. One of them is the ability to upload personal color 3D LUT table via SD or USB flash drive. Content in this case is handled with the help of tables LUT (Look Up Tables). LUT - is the process of digital processing that creates the desired image using the card (banks) exposure and DK (Digital Knee).

All OLED TV manufacturers are subjected to ISF image calibration at the factory and checked CalMAN complex programs. Additionally, we note that EZR1000 is certified THX and Ultra HD Premium. But for fans of 3D net becomes news - Panasonic in 2017, refused to support 3D and EZR1000 it is not a model.
Operating EZR1000 TV system is built on an updated version of My Home Screen 2.0 Smart TV, although earlier stated that Firefox OS suspends development for TVs. Because of this, Panasonic has announced the continuation of their own Smart TV platform.

The updated OS adds features such as favorite folders for multiple users, My App button on the remote control, which is set for fast access to favorite content. Enhanced Media Player app lets you play back 4K HDR10 or Hybrid Log Gamma content.

For some markets, a new version of the built-in player Freeview Play. Its setting enhances the user experience in terms of the best content to sort and search your favorite program. Panasonic EZR1000 now fully supports 4K HDR streaming resources Netflix, Amazon and YouTube.
Display Type: OLED
OLED technology: WRGB OLED
Image Format: 4K UHD
Screen Size: 65 inches
Screen Resolution: 3840 x 2160 pixels
Aspect ratio: 16: 9
Bit matrix screen: 10-bit
Refresh rate: 120 Hz
It is necessary to clarify that at the time of writing the opportunity to test the image quality EZR1000 at CES does not provide. However, OLED matrix is almost always give odds LCD TVs. Visually Panasonic novelty meets the specs. It was possible to visually compare EZR1000 and last year's model LG OLED TV (or with professional Sony OLED displays) but the recorded content Panasonic test, of course, gave an excellent image.
Even blacks on screen look really EZ1000 except for minor flaws. According to Panasonic, the new model EZR1000 can play at the peak brightness of 800 nit at a sufficiently precise image, the coating color range close to the maximum for the DCI-P3 and Rec.2020. In fact, a review of the TV EZ1000 can not be called complete due to lack of data grayscale measurements, color accuracy and reproduction of content HDR in the laboratory.
In the model Panasonic TX-65EZR1000B usual interfaces are available for the standard 4K TVs. In the presence of a digital tuner capable of receiving standard DVBT / T2 and DVB-S2, analog terrestrial tuner, a large number of HDMI ports. Given a pair of HDMI interfaces are located on the side and the back side of the TV, they can play 4K @ 60 / 50p support with HDCP2.2. In addition, a pair of interfaces supported "through" Audio Mode Audio Return Channel.

The user has three USB interfaces - one side and a pair of rear (USB 3.0 x 1, USB 2.0 x 2). Card Slot CI Plus (Ver 1.3) and SD card reader. From video slots have component and composite inputs RCA. Out sound system provides Digital Audio Out (Optical). As the control panel can be a touchpad remote and standard remote control (depending on the distribution of the country).
At the conclusion of the review 65EZR1000 from Panasonic, we note that the manufacturer has made a step forward by releasing OLED television, surpassing the features Panasonic CZR950 predecessor. At the moment, we can not say whether the manufacturer uses its own OLED panel or a panel of third-party manufacturer. But some of the technical solutions Panasonic introduced into the design of their offspring.

Most importantly, according to the officials, EZR1000 model really provides professional image quality level simple consumer. But we can not confidently confirm or deny until the TV has received laboratory test trials. Highlights, which is to focus - the lack of 3D mode and support for Dolby Vision.

However, HDR stated EZR1000 10 and HLG. Panasonic announced a peak brightness of 800 nit in 65EZR1000 model, we recall that in EZR950 this option was at the level of 450 nits. New high-quality sound system Dynamic Blade Speaker affects the large number of speakers and the ability to use an optional external speaker instead of the original gives the user a wide choice.