Televisions have long ceased to be simple devices for viewing TV channels. Modern television can safely be considered a multimedia platform functionality reminiscent of powerful computer. Previously, an accomplishment could be considered to connect to your TV and home theater to build on its base of high-quality system for watching movies, but now with the massive spread of Smart functionality have an opportunity to connect the TV to the Internet.
Samsung was one of the first companies that has been able to successfully combine in one device the TV and computer, as well as to implement an effective internet connection. Years of evolution and development have led to the appearance on the Samsung Smart TV TV market, which are considered "smart" models with enhanced functionality. We learn more about the very essence of the work Samsung Smart TV, find out what it is, we list the main features of the productive units, as well as talk about new models of Samsung TVs that support the brand Smart TV platform.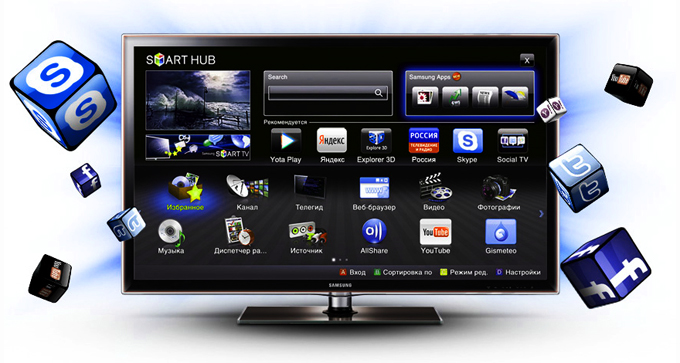 Users who are accustomed to operating without TV Smart TV is not always understand what "smart" model, different from the usual. In addition, after consultation with the seller and the purchase of Samsung Smart TV TV, some users do not use a tenth of all the possibilities the model you purchased, while continuing to watch live TV, and occasionally going to the internet to watch online movies. That is why it is so important to understand what the general will be discussed.
Samsung Smart TV is the TV, which is equipped with proprietary Smart Platform Samsung, which turns it into a multimedia center with direct access to large amounts of media content on the Internet. Such a device in its communicative possibilities closer to your computer or smartphone. Installation of specially designed application allows you to turn the TV into a unique connection point for social networking, exchange of information and access to the desired content.
The level of integration of the Internet in Samsung Smart TV is very high. The vast majority of TV opportunities implies an active network connection. Without a valid Internet connection with Smart TV shopping platform becomes unjustified. It should be noted that it is, Samsung has implemented one of the first TVs in their ability to install applications and services to maximize the use of Internet capabilities. Once we found out what the Samsung Smart TV can proceed to the consideration of its structure and functionality.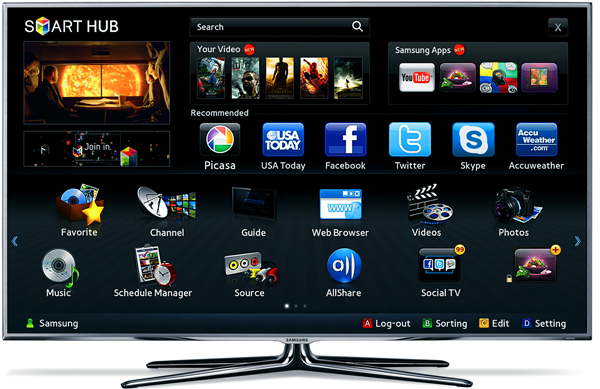 Even not very expensive TVs of the middle class have a mass of useful features. The following are the main ones.

Smart Hub allows the user to download all kinds of applications to find content while continuing to television viewing, to search for the information you need on the Internet using the built-in browser, chat with friends and family using the built-in social services, look for reviews and reviews of movies and much more.
Samsung Search All feature allows you to quickly and easily find the appropriate TV or thematic content in the network or in your home collection.

Samsung Social TV feature lets you talk on the network just watched a movie or leave relevant comments on the blog. Right while watching a video, you can communicate via services Facebook, Twitter, or Google Talk.

Corporate application store Samsung Apps contains a large number of different functional orientation programs. Today you can download and install applications for all tastes: sports, news, weather, videos, sports predictions.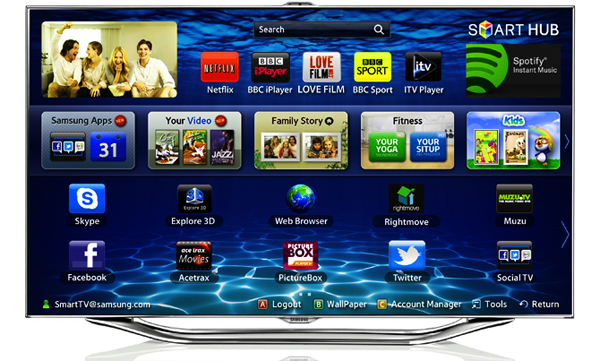 Samsung 3D offers the user a wide world of cinema and surround sound quality. High-quality image converter from 2D to 3D convert your favorite movie in surround format and will provide a decent 3D image.

Technology Depth Rendering Technology Samsung is responsible for playing a live surround sound that enhances comfort when watching movies and gives you the opportunity to immerse themselves in the atmosphere of what is happening.
ConnectShare Movie feature makes the Samsung Smart TV in a real cinema center. You can play movies with such carriers as a flash drive and external hard drives.

With features Smart TV platform from becoming very popular. Conventional models do not have access to the Internet, it automatically reduces the range of tasks. Among other Samsung Smart TV useful functions include:
Display digital (cable, satellite, terrestrial) television
Play video from external sources (HDMI 1.4 interface)
Ability to view IPTV
Internet surfing
Access to online widgets and services
Access to the YouTube video sharing
Support for Skype calls (read also: INSTALLING SKYPE ON SAMSUNG SMART TV)
Direct use of Samsung Smart TV begins with the launch of SmartHub. Visually it resembles a desktop screen on your computer, but instead labels are located on the screen icons set of widgets and various applications. You can also display a small window in which to display the selected TV channel.

TV Interface Samsung worked very well. If desired, to deal with the basic set of features can anyone who has mastered a normal mobile phone. The first association when you start SmartHub this similarity to smartphones. However, the Smart TV platform is a more complex system, because the specifics of the work and the screen resolution is quite different.

Physically control your TV easily with a special touch panel with a QWERTY keyboard. The presence sensor simplifies the execution of necessary applications, the sensor itself resembles a computer touchpad, with which many are familiar with. Without exaggeration, we can say that with the advent of Smart TV users received a mega functional and well-crafted entertainment center.
As we said one of the highlights of "smart" TV is the ability to install applications from the store branded Samsung Apps. Consider the most popular applications that users install the most.
Very often, the owners of Samsung Smart TV TV set YouTube, TV version which does not differ from the original.
Foreign service the Explore 3D contains many specially prepared video in 3D. Especially useful this service to owners of 3D TVs that do not have free access to the content volume.

Yota Play service provides access to a fresh full-length movies in high quality.
Other popular applications include:
Skype
Gismeteo
Google Maps
Social networks (Google Talk, Twitter, Facebook)
Sport Express