Acer 23 inch TV series N230HML user manual
Acer 23 inch TV series N230HML user manu
Compressed Archive in ZIP Format
4.6 MB
Acer 26 inch TV series AT2617MF user manual
Acer 26 inch TV series AT2617MF user man
Compressed Archive in ZIP Format
4.8 MB
Acer 26 inch TV series AT2628ML user manual
Acer 26 inch TV series AT2628ML user man
Compressed Archive in ZIP Format
2.7 MB
Acer 24 inch TV series M242HML user manual
Acer 24 inch TV series M242HML user manu
Compressed Archive in ZIP Format
4.7 MB
Acer 26 inch TV series AT2618MF user manual
Acer 26 inch TV series AT2618MF user man
Compressed Archive in ZIP Format
2.7 MB
Acer 32 inch TV series AT3201W user manual
Acer 32 inch TV series AT3201W user manu
Compressed Archive in ZIP Format
9.7 MB
The market is a bit of TV devices, displaying HDTV image completely, without decreasing the resolution. One of the interesting options in terms of price and in terms of the possibility of displaying images is Full HD TV ACER AT3705-MGW. MGW in the title means MediaGateway. The right to be called so he gives you a built-in network player.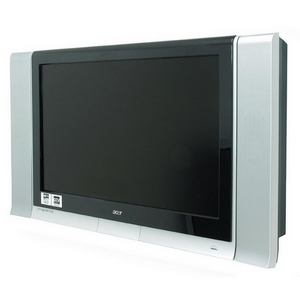 LCD Screen Matrix
Super-MVA, the resolution 1920x1080 (Full HD);
Brightness 500 nits, contrast 800: 1;
16.7 million colors, 12 ms pixel response.
Digital and VGA interfaces
HDMI with HDCP;
DVI-D with HDCP;
VGA (Sub-D).
Network interface
RJ45 to 100 Mbit / s;
WLAN 802.11 b / g to 54 Mbit / s.
We give a description of the test HDTV TV Acer AT3705-MGW.
As a signal source used digital satellite receiver Humax HDCI-2000. The connection is made via an HDMI cable. Actually, to date, relevant connections can only be called HDMI and LAN network cable.
Of the features one can immediately notice that the TV automatically HDMI input is not determined by the presence of the signal. It takes a few times to press the remote button (AV). But the next time the panel HDMI input is the default.
Subjectively, the picture is best displayed in 1080i mode, the panel produces a very precise and accurate deinterlacing. Pictures HDTV channels look great! It should be noted that MPEG2HD has no advantages over visual MPEG4HD. When viewing HDTV channels via HDMI and immediately struck by the fact that the TV Acer AT3705-MGW does not display the entire picture! See. Explanatory screenshot. This fact has caused consternation. When viewing BBC HD channel having a resolution of 1440 * when you select 1080i Original mode to the source, the panel showed a picture with black bars on the sides, but the whole image completely.
The HDMI panel is adopted as MPEG, and Dolby sound, and both options perfectly reproduced fully complete stereo speakers.
Comparison of images from standard definition channels SCART / RGB and HDMI / 576p / 720p / 1080i allows you to conclude that it is best to channel standard definition looks for HDMI / 1080i, the worst on the SCART. Just note: NTV PLUS channels to watch on the SCART socket on the panel it is simply impossible - a complete mess of the squares! HDMI / 1080i gives satisfactory results! It looks very adequately SD video channels with a high transmission speed, for example, NRJ 12 (6 Mbps video / sec).
Network player used to connect a LAN cable to a laptop ASUS A3L (screw 100 GB / 7200 rpm.). Included with the TV Acer AT3705-MGW is a disc with the server software that is installed very quickly. In this case the user is prompted to select a folder (Video / Photo / Music) on the hard disk, which will have access to view the TV.
When the server is installed and running, the TV menu in HDTV contents of these folders becomes visible.
Audio has been played quite well. Photo size 2560 * 1920 display panel is just awful: all Rescaling obviously is simply dropping the lines. Conclusion: The photo on the Acer AT3705-MGW built-in is better not to watch.
With all video playback is also not so easy. Video MPEG2 4: 3 standard definition plays without problems, but the 16: 9 was framed by black bars at the top and bottom! And they can be removed only select "Letterbox"! Same with video MPEG-2 HD 16: 9!
This is noticeable that in the Letterbox mode, sharpness declined. Dolby and MPEG audio tracks from files played back without any problems. MPEG4 standard definition was played (and on the screen panel looked quite decent, even very decently shrugged movie), but MPEG-April 1080 not to lose. Moreover, television has written that is not supported by the container format (mp4 file was used).
General conclusion: since the Acer AT3705-MGW perfectly displays HDTV channels picture, it is strongly recommended as a cost-effective solution in conjunction with the Humax HD-CI2000.