Hello friends! Let's talk today about modern TVs with Smart TV function and that you need to connect this TV to the Internet. I'll tell you in what way you can connect your TV, and how to do it.
It will not be any particular user's connection, but I will try to clarify the situation. I've just recently read a comment on a television in a popular online store, and noticed that people just do not know why and how you can connect your TV to the Internet and how best to do it.
Internet connection is only necessary TVs with Smart TV function, it would be possible to gain access to online services, social networks and so on. D. If you have a TV set without a Smart TV, but it does have a network connection, it is only for watching movies on LAN (well, or even for some local functions, not more).
If your TV has a Smart TV that he is one of the ways to connect to the Internet (or more). Generally, the two main process (even three).
The TV must be the LAN terminal (RJ-45), it looks like this: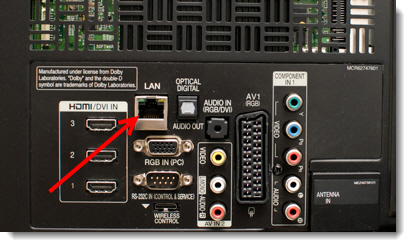 If your Smart TV has only a LAN jack, then connect it to the Internet, you can probably just using a network cable (perhaps still can be connected via the built Wi-Fi, or with a special external Wi-Fi receiver, see below).
To connect with a cable, you can use a network cable, which is likely to have in your home (from the provider). But as a rule, such a cable is connected to the computer. In this case, it is best to install and configure the router. You connect to the Internet router, and from it has a cable to a computer, TV and other devices.
Plus, the router will distribute the Internet on Wi-Fi. You will be able to connect their own devices (which have such an opportunity) to the wireless network.
The downside to this wiring diagram is that you need to lay the cable, which is not always convenient, and does not always work.
It is more interesting and more convenient. If your TV model has a built-in Wi-Fi, you can without any wires to connect to the Internet. The only thing you need to have a router that is actually handing out the Wi-Fi. Well, or the neighbors already have, without a password :).
Just be sure, check in the characteristics, whether there is a possibility to connect the TV to Wi-Fi. Better yet, ask your manager (if you buy in the online store), or consultants.
Very often, they write that there is support for Wi-Fi, and built on the receiver does not exist. There is only the possibility to connect an external receiver to be purchased separately (see below). Ask about when you buy!
If you have your TV does not have built-in wireless receiver, and there is only a LAN connection, but you can not or do not want to lay the cable, then all is not lost. Perhaps the model of your TV you can connect an external receiver. Connect this receiver is usually in the USB connector.
But you need to buy a separate receiver. And they are not cheap. The whole trick is that you can only use corporate Wi-Fi receiver. For example, a receiver for Samsung worth about 350 UAH. (1400 rubles). He knows how to make money as people :) You'll see how many there are branded webcam. Other manufacturers are not cheaper.
But if you decided to buy a receiver, be sure to check whether your TV model to work with him. You can call in support of your TV's manufacturer and ask, they just know.
It looks something like this: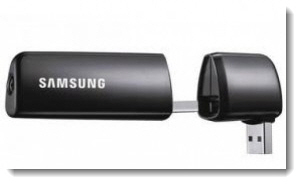 But there is another option, I say: I would not buy this expensive receiver, buy some cheap Wi-Fi router (yes, another one), for example TP-LINK TL-WR740N.
We put the router near your TV and connect it via network cable to a TV. Then configure this router bridging (WDS).
What we get: this router which we installed near the TV receives Internet via Wi-Fi from your main router (which is installed eg in the corridor) and distributes it via a cable to the TV. And yet it enhances Wi-Fi signal. Everybody is happy, everything works :). Maybe later I'll write more about how to do it, with pictures and so on. D.
TV can have and the LAN connector and built-in Wi-Fi module - then there can be connected, as you prefer.
I tried as much as possible more and easier ways to connect your TV to explain to the world wide web. I hope I did. Perhaps in the next article, I will tell in detail how and what to do when connected in every way, write detailed instructions.
Good luck!