Roku Streaming Stick 3600 Quick Start Guide
Roku Streaming Stick 3600 Quick Start Gu
Adobe Acrobat Document
85.9 KB
Roku 3 Quick Start Guide
Roku 3 Quick Start Guide.pdf
Adobe Acrobat Document
1.0 MB
Roku 4 Streaming Player 4400R User Manual
Roku 4 Streaming Player 4400R User Manua
Adobe Acrobat Document
536.9 KB
Roku Ultra Quick Start Guide
Roku Ultra Quick Start Guide.pdf
Adobe Acrobat Document
433.4 KB
Roku 4 Streaming Player 4400R Quick Start Guide
Roku 4 Streaming Player 4400R Quick Star
Adobe Acrobat Document
89.5 KB
Roku TV User Guide
Roku TV User Guide.pdf
Adobe Acrobat Document
5.5 MB
With the development of 4K TV is increasingly began to appear on the shelves of a variety of devices capable of pulling 4K content from the network (streaming) and transmit it to the TV. There is a logical question - why do we need such 4K Set-top box or set-top boxes 4K format? After all, we mean 4K resolution - a high quality picture on the TV screen. How 4K set-top box will provide us with high-quality image with a simple TV set, for example, a supported HD or Full HD resolution?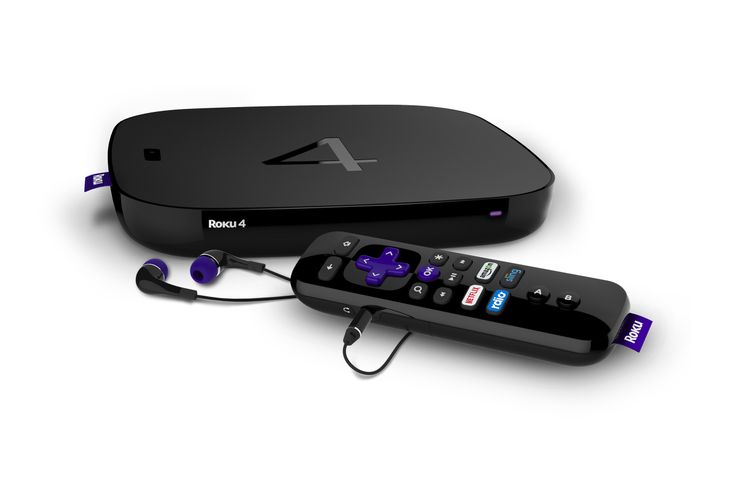 More recently spilled into the world of Amazon Fire TV set-top boxes and TV Tronsmart Orion R68 TV Box - how they give us the opportunity to enjoy high-quality video on the screens of our old Full HD TV? We give a specific answer: no! It should be clearly understood that the image quality will be exactly what the maximum possible at the TV. All matter is closed and a non-negotiable (as an axiom).
Then brewing a specific question: why do we need these for our consoles 4K TVs? Let's look at one more "fresh" TV set-top box Roku 4 (it should be noted that there is still the OS Roku 7). The answer to the question of whether or not to 4K set top box we will discover in the outcome of the review Roku 4.
TV set-top box Roku 4 - this is a great 4K Ultra HD media streaming device, it allows you to search among a large number of Internet resources 4K content and transmit it to your TV screen. What is so outstanding in Roku 4, which puts it on one of top places among similar devices on the market TV set-top boxes. One of the advantages of Roku 4 is a software environment, we know that the brand produces a TV set-top boxes since 2011.

With this in mind, we can not hesitate to recommend to console all who are interested Roku 4 (and its prospects), along with the devices on OS 7 operating system This is a fine choice for connoisseurs who know OS 7, Roku set-top box 4 including 4K TV device wins in all respects.
Earlier Internet "ran" picture of pre-Roku version 4. Now you can see photos of 4 Roku is said to live. TV set-top box Roku 4 in the package looks like a big hockey puck, however, the shape is a bit like racing shape. Dimensions of the device is not big and you can easily place the TV set-top box Roku 4 in any convenient place near the TV.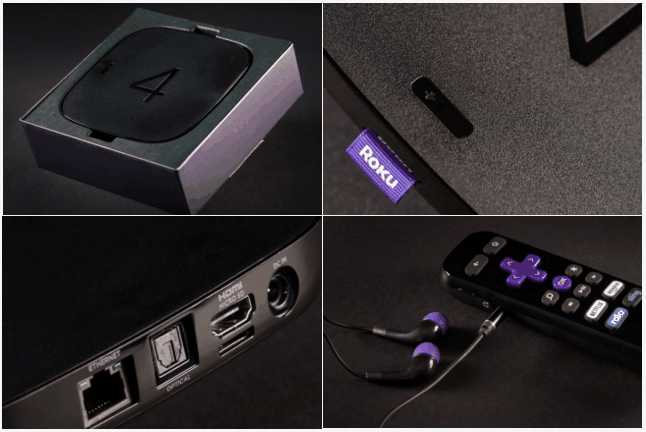 The Roku set includes 4 AA batteries, remote control and power adapter. Note, HDMI cable is not included and must be purchased separately. The process of connecting and menu settings Roku 4 does not require specific skills - it is too easy to focus on "how to connect to a TV Roku 4", omit it.
Roku TV console 4 is designed to playback 4K UHD content with support for HDCP 2.2 on HDMI 2.0a interface. This is the only video output interface.
Here it is necessary to put one plus STB Roku - in its composition, it has an optical digital audio output, we note that the Amazon Fire TV box it is not, and it appears only in the next version of the Amazon. Many users are connected via the HDMI cable directly to the TV, and some "advanced" use the A / V receiver 4K. Exactly in this connection requires a digital optical audio output, which is in the Roku 4.
The Roku TV set-top box 4 has a USB input which allows you to connect additional sources of media and video. This interface supports the H.264 video compression, the ability to play MKV, MOV and MP4 content. H.265 format is used interchangeably with vp9 (which uses YouTube). MKV container supports FLAC (without DSD).

Further, there is a card reader for MicroSD - you can store and reproduce data and programs using the MicroSD to increase the internal memory of 4 Roku set-top box.
Let's say a few words about wireless technology, applied in the factory Roku 4. With a wireless network operates in 802.11ac MIMO Wi-Fi standard, providing high data rate. Most likely, the RJ-45 connector you do not need.

Prefix Roku 4 built using quad ARM processor, internal memory of 1.5 GB of RAM (we recall that a total of 512 MB used in the Roku set-top box 3). Memory for user programs is limited to 256 MB, but in MicroSD Roku rescues this situation.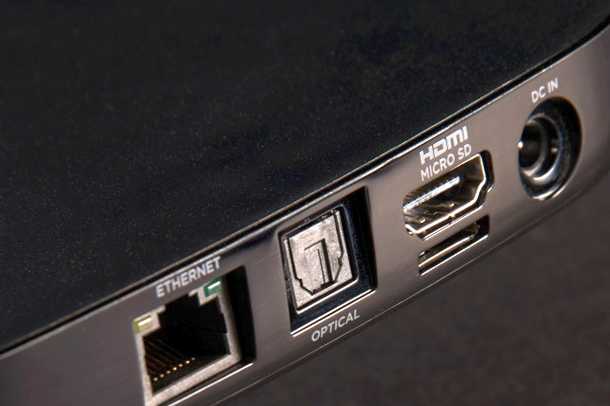 TV Roku 4 console is built for reliable streaming 4K content, and as the operating system TV platform were many debates about what to use. The device should be simple and user-friendly in terms of interface and high performance in the soft-platform. A compromise was made to use the views in the Roku OS 7 that meets these requirements. All the power of OS 7 operating system embodied in the TV set-top box Roku 4.
One of the advantages, the Roku set-top box - is the ability to find content on a large number of online resources. Cross-Platform Search is the main difference between this device - more than 20 standard content providers are searchable. Here are some: Star Trek, Acorn TV, Amazon Video, Blockbuster On Demand, CBS All, CinemaNow, Crackle, Fox Now, FX Now, HBO GO, Hulu, M-GO, Met Opera On Demand, SnagFilms, STARZ PLAY, Nat Geo TV, Netflix, Popcorn Flix, Time Warner Cable, Tubi TV, Vudu and others. Roku will allow you to choose any flavor desired content - there is a will for a long time "flipping" by source.

But do not think that the search for causes the user to faint. There are many different options for search queries as input to the on-screen keypad, whole or partial beginning of the file or track. And search works really well, it's still one of the main advantages of TV set-top boxes Roku 4.
At the conclusion of the review say that the new set-top box for the TV to compete with Apple TV Siri and Amazon Fire TV. Roku 4 easy to use, setup and has a friendly user interface. Power computing process and processing of content is simply amazing. We recommend Roku 4 for excellent streaming 4K content.

Now back to the question - why we are now like 4K set top boxes? What they give us if we use them in the usual Full HD TV, or with a lower maximum resolution? The answer - nothing !! The only basis for the acquisition of such a device - a low price in comparison with a 4K TV 4K and the ability to view content on a normal TV, even in HD or Full HD resolution.