Sony unveiled at CES 2017 a new line of TVs XBR-A1E Bravia 4K OLED. According to the manufacturer, it is the flagship series in 2017. Sony confirmed rumors last year that the new TVs will be a major shift in terms of technology for home entertainment. At the time, OLED TV is widely promoted on the market only manufacturer LG among the leaders in the production of these televisions. Apparently, after the CES 2017 this fact changed for the better, and a rival in the face of Sony.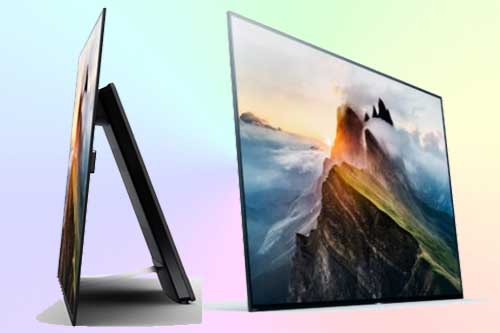 Sony confirms that the transition to the matrix OLED TVs will allow play to new unprecedented levels of black, rich and realistic color, good dynamic contrast ratio, minimal blur. Such panels in addition have a wide viewing angle. LG Manufacturer doubts about the "unprecedented" of this fact, but perhaps these statements relate to last year's model.
Ironically, Sony does not make itself OLED panel. The company will use the panel LG Display manufacturer, which is "separated" from LG Electronics in a separate company. In short, Sony refused to identify the provider OLED panels of at least 2017 CES.
It is worth paying attention to the approval of Sony, that support Dolby Vision HDR built in hardware in the new «4K HDR Processor X1 Extreme» chip (in a new processor). This fact is not the main one of which the new TV model is very, very thin. Such thin TVs new series of LG OLED B7, C7, E7, G7 and W7 were presented at CES 2017.
Series Sony A1E with OLED Bravia panel will be available starting at 55 inches diagonally, the largest panel with a diagonal of 77. The Sony, of course, at CES 2017 did not disclose the price range of new TVs, but if you remember the LG OLED, the last year the price of the TV with a diagonal of 55 was at $ 2,500, the same model with a 77 inch screen was the price above $ 20,000. This is an example of 77 Signature G6. Proceeding from this fact, it is not difficult to guess what will be the cost of new televisions Sony XBR-A1E, which Sony sale is expected this spring.
OLED matrix does provide excellent black levels and brighter colors than most LCD screens. Therefore submitted a new version of TVs Sony Bravia 2017 - clearly the flagship model. In addition to the new displays have other interesting achievements at Sony. Apparently, the geometric dimensions suggest other speakers have new TVs. manufacturer himself indicates this innovation as a Sony Acoustic Surface Sound. A few words about the sound of Sony XBR-A1E.

Due to the use of matrix OLED Sony has developed a new Acoustic Surface Sound technology. Thanks to the clever design, full screen resonates wealth of sound effects, so that the television itself becomes a source of sound - perfect!
It turns out that now when watching movies all the TV will sound. The manufacturer claims that this approach allows to reproduce a wide frequency range. But we still have the issue of low-frequency signals. Really low frequencies will be perfectly sound? There retrospect, this idea is not new sound system. Previously there have been similar projects. But if you buy these TVs, you get a wonderful "sound system" in the kit.
Recall that Sony TVs, and in particular, Sony A1E with OLED panel works on the operating system Android TV. Thus, you can control the device through the Google Home Speaker, download and install new applications from Google Play or pass on a huge OLED screen content from a smartphone, tablet or directly from your computer. If you are not an ardent supporter LG WebOS TV, you should pay attention on Sony TVs.
Besides Sony A1E with a panel OLED at CES 2017 showed a renewed series producer Sony LED TV - a Sony XE94 and Sony XE93. In last year's TVs XD94 and XD93 support Dolby Vision has been added, which is one of the standards of the HDR. In addition to the series of Sony X940E, X930E be added 4K HDR model XE90, XE85 and XE80 with a wide choice of diagonals from 43 to 75 inches. Prices of the new Sony TVs at CES 2017 in 2017 are not marked.